The Festival IS Televised
SUNDAY SESH
LIVESTREAM Greenshine 7pm

Jim Murray
Dea Matrona

Míde Houlihan

ADT

SATURDAY SETS
Cam Cole
LIVESTREAM THE KATES 9.30PM

Brian O'Regan & Friends
KULINI

LIVESTREAM JINX LENNON

Philip Crosbie
The Point Of Everything vs Jinx Lennon

FRIDAY NIGHT FESTIVITIES
Bicurious
Paula Bilá

Bill Shanley Band
Eugene Brosnan
JENNY McNAMARA & JOHN RONIGER
 JEFF WARD AND MATT CHURCHILL
LIVESTREAM | AVA ARCHBOLD
Ava is a tenacious 16-year-old alternative musician from Clon, with a dedication and drive to her craft that already make her stand out.
Watch it here:
You can listen to Ava's Spotify here: https://spoti.fi/2FMNQJp
There's been a slight change to the timetable tonight.
8:05pm Jeff Ward & Friends (IRL/UK)
8:26pm Jenny Mac  (IRL)
9:05pm Eugene Brosnan (IRL)
9:43pm Bill Shanley (IRL)
10:35pm Paula Bila (ESP)
11pm ADT & Justin Grounds (Insta)
11.30pm Bicurious (Irl)
THURSDAY NIGHT LIVESTREAM
LIVESTREAM | MAIJA SOFIA, live-streaming from DeBarras Folk Club, Clonakilty.
Maija Sofia is a singer and writer from rural Co. Galway but currently lives and works in Dublin. She has performed at numerous festivals across Ireland and the UK including Other Voices, Electric Picnic, HWCH and the London Antifolk festival. She has played support to Joan As Police Woman, Julien Baker, Stella Donnelly, Mutual Benefit, Brigid Mae Power and Adrian Crowley amongst others. She has released an EP and a handful of singles, including most recently last year's 'Flowers' via London imprint Trapped Animal which was named best new music by DIY Magazine. In spring 2018 her unreleased song 'The Wife of Michael Cleary' was covered by Katie Kim and Lankum's Radie Peat for a one off collaborative performance in the Pepper Canister. Her debut album will be released in November 2019 via Trapped Animal records.
MATTY GORDON AND FRIENDS
Matt Gordon has been living in the woodwork of the music business. He's a great Fiddler, Clogger, Hamboner, and Harmonica player. He toured in the 80s and 90s with the Fiddle Puppet Dancers, taking part in the London debut of Riverdance, and participating in festivals around North America and Europe, with that group.
His CD with Leonard Podolak and their pal Bill Shanley called 'Three Thin Dimes' is the first full recorded effort on his part, and although he knows many people in the tribe, and has laid a track or two, on other Cds he has not toured much in the last few years, focusing on his career as a woodworker, and cabinet maker.
THE CLAGUE BROTHERS AT TEACH BEAG
Sam and Les are a father and son guitar duo from Clonakilty. Les, originally from Liverpool, is an accomplished ragtime fingerpicking style guitarist and composer. While crafting this artform gigging and busking in Europe and living in Antwerp, he later moved to Clonakilty to settle down and started to study Flamenco.
When Sam was 11, he started to steal his fathers chops and started shredding his first electric guitar busking on the streets with his Dad in Cork and on family camping trips in France. His Jimmy Page obsession soon turned to Django Reinhardt and thus the Clague Brothers started to craft their own sound.
DAVID CHRISTY JONES
Wednesday Night
Catch up on Wednesday night's deep dive between Roy Harper and author David Mitchell.
If you are able to donate to the festival, you can do so here: https://www.paypal.com/paypalme/clonguitarfest
We have much more coming up over the coming days. Check out clonguitarfest.com for more.
RICHARD GILEWITZ
#thisiswhoweare
6.30pm – #thisiswhoweare Industry Awareness Event (YouTube Livestream)
8.00pm – Richard Gilewitz (US)
8.45pm – Eadaoin Costley (IRL)
9.30pm – Roy Harper & David Mitchell in conversation
Check out our previous livestreams. Some links won't work, as we only keep them up for 24 hours.
LIVESTREAM: WAYWARD FOLK
Wayward Folk epitomise smooth vocal harmonies and an infectious blend of folk, bluegrass and country music. Recently formed by John Fitzgerald, Gavin Moore and Paula K O`Brien, the songwriting trio combine guitars and mandolin to create a sound that makes you want to both stomp your feet and wrap your arms around your lover. They perform a mix of covers and originals, are passionate about their music and will leave you feeling pretty folking good.
STEPHEN HOUSDEN
MONDAY
— Thanks for a great festival first night on Monday! We hope you slept well…Cause…
8pm – Humbird (US)
8.45pm – Steve Housden (AU)
9.15pm – From the festival archives
9.30pm – Wayward Folk (YouTube livestream)
10:45pm – back to the vault to see what archived gems we find…
If you missed Eve Clague's 8.30 gig from Shanley's on Monday, it'll be available til about 8pm Tuesday on our social channels: Facebook, Twitter or on our YouTube.
Get around it!
clonguitarfest.com | youtube.com/deBarrasFolkClub | FB @clonguitarfest
A note on this year's festival
This year marks a new version of Clonakilty International Guitar Festival for the new version of the world we find ourselves in.
This year's event, our 16th annual festival, will be completely online. But we are still bringing the same high quality and eclectic line-up that's come to characterise our festival.
There will be Live-streamed concerts from DeBarras Folk Club featuring Jinx Lennon, Greenshine, Wayward Folk, Maija Sofia and more.
We have also been busy in recent weeks filming prerecorded sets in iconic Clonakilty venues from artists, such as Bill Shanley, Eve Clague, Míde Houlihan, Jim Murray and ADT. We will also digitally premiere shows from many of the artists that we had hoped to bring to you in the flesh this September, as well as some exclusive interviews including Folk Musician & Poet Roy Harper in conversation with award winning author David Mitchell.
All our online concerts have been prepared in compliance with necessary health & safety protocols to bring you an exciting digital experience for this year's event.
On top of all that, we have delved into the CIGF archives to present some highlights of the first 15 years of our festival's history.
Alas the traditional guitar fest experience – a stroll through beautiful Clonakilty to see your next favourite band and meet your newest best friend – just isn't physically possible this year.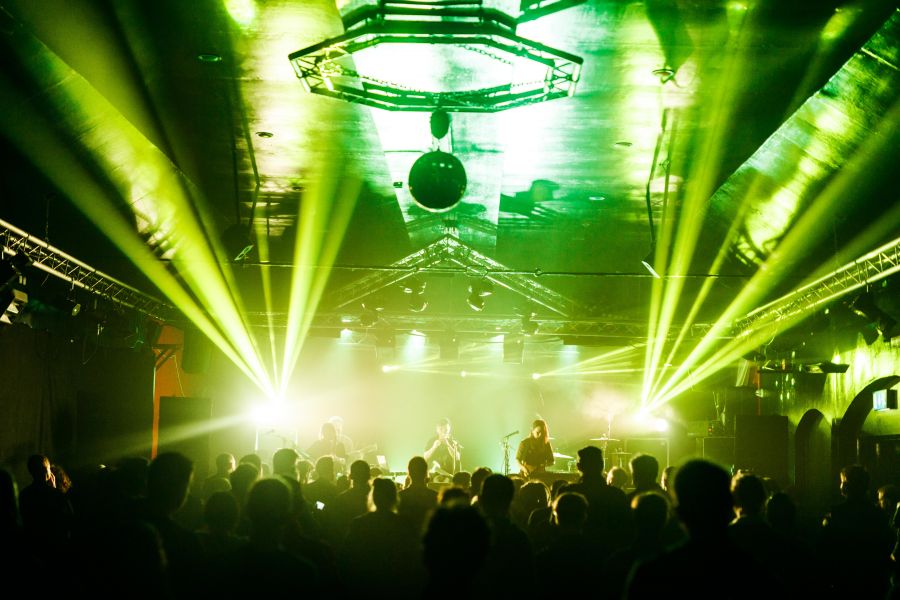 Of course nothing beats the live experience of a bass drum kicking you in the throat, the sharp sting of sweat in your eyes from a hungry mosh pit or the existential joy of leaning in at an acoustic show to hear artists whisper truths in still moments. But this year's festival will continue the sheer energy of our artistic community, its spirit of resilience, adaptability, creativity, and humour.
As ever, we could not present our festival without the huge efforts of our technical teams. These are the people behind the scenes that help soundtrack the best moments of our lives. We stand in solidarity with all the artists, tech and events crews in the music industry who have been out of work since March, with no sign of regular work resuming.
The festival will be televised!
Welcome to Guitartown.
The festival welcomes donations. You can lend your support by clicking the image below.